Promot – Zakłady Metalowe
Promot-Zakłady Metalowe Sp. z o.o. is a manufacturer of hot die forged metal parts with complete machining and assembly performed according to the technical client?s requirements. In order to fulfill client?s orders and requirements the company has at their disposal:
Hot die forging lines (forging presses max. 1600t),
Mechanical working stations equipped with the latest generation lathes and vertical machining centers (CNC),
"in-house" tool shop,
"in-house" laboratory – whose sole purpose is quality control
Promot provides hot die forgings with the weight ranging form 0,1 kg to 4 kg. Company offers also machining, heat treatment and the full range of galvanic coatings and anticorrosion protections. The products we deliver are machined, ready for assembly, according to clients? needs.
Two plants of the company are located in Cieszyn, in the South of Poland on the boarder with the Czech Republic. The tradition of metallurgy and forging of the region date back to the middle of 18th century. The location in the neighborhood of the motorways is the company?s additional logistic advantage.
Promot is polish private family company and our shareholders are actively engaged in management.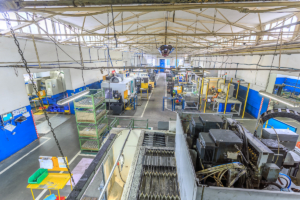 Promot-ZM products are made of carbon steel as well as of the high alloyed, stainless, creep resistant and acid resistant steels. The steel bars are delivered by recognized Polish and European steelworks. The main Promot-ZM?s clients are international automotive companies and their suppliers completing the automotive sub-assemblies. The company?s products are
also used in mining, machining, transport, agriculture and building industries. From the year 1996 about 80% of the products is sold to the foreign clients mainly on American, German and Czech markets.
The company is concerned with delivering the highest quality products, to our clients satisfaction. Promot-ZM runs its activities in accordance with requirements of quality management system by the norm DIN EN ISO 9001:2000 and ISO/TS 16949:2009. Our quality policy has been recognized by the exacting clients in Poland and abroad.
The manufacturing management processes are supported by ERP system. All the company processes are IT supported.
We have many years experience of reliably supplying the car industry with our services and products. This provides us with a quality reference from one of the most demanding production industries today. We supply and provide quality services and products, in a professional manner, with punctual delivery.